ABOUT SERIES "MURDER DIARY"
Murder Diary is a Hong Kong criminal thriller starring Kara Wai, Vincent Wong, Philip Keung, Benjamin Yuen, Mandy Wong, Lai Lok-yi, and Venus Wong. It was produced by Television Broadcasts Limited (TVB).
On June 15, 2021, Murder Diary launched at 8:00 pm on Youku, myTV Gold, TVB Anywhere, and Astro GO. It premiered on TVB Jade and Astro AOD at 9:30 p.m. on June 28 and will begin airing at 10:15 p.m. on July 19 owing to the Tokyo Olympic Games broadcast.
MURDER DIARY SYNOPSIS
Years ago, Yeung Bik-sum (Kara Wai) nearly killed her son, Ip King-fung (Vincent Wong), and her daughter, Ip Long-ching, due to her schizophrenia (Joey Thye). As a result, King-fung developed Dissociative Identity Disorder. Chu Kei (Vincent Wong), one of his split personalities, studied hard to become a handwriting expert and criminal profiler who assists King-fung, an undercover agent, in uprooting a criminal organization.
Chief Inspector of Police Kong Ching-fun (Lai Lok-yi) invites King-fung, psychiatrist Wai Yui-kit (Benjamin Yuen), bomb disposal officer Yau Ngan-sing (Mandy Wong), and forensic anthropologist Fong Yuen-chin (Venus Wong) to the Special Crime Unit due to a succession of challenging cases. Superintendent Nip Shan (Philip Keung) returns to oversee the Special Crime Unit after being cured of Bipolar Disorder. He discovers that Bik-sum is linked to the disappearance of his wife Leung Yat-sze (Alice Chan)...
MURDER DIARY CAST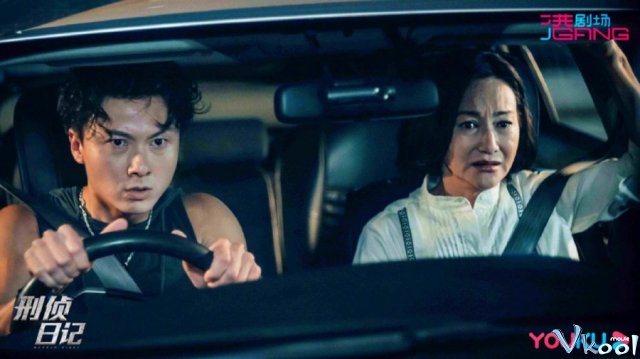 Kara Wai as Yeung Bik-sum, Ip King-fung and Ip Long-ching's mother. Seventeen years ago, after almost poisoning her children's due to schizophrenia, Bik-sum returned to Malaysia. When she came back to Hong Kong, she found out that her daughter, Long-ching, had been traumatised. In order to take care of her, Bik-sum worked as an assistant in the mental hospital.

Vincent Wong as Ip King-fung, a nimble but impulsive undercover agent from the Crime Unit with Dissociative Identity Disorder. Wong also portrays Chu Kei, a split personality of King-fung. Chu Kei is a graphologist and a criminal profiler who was erudite and warm-hearted. When King-fung encountered difficulties that he couldn't resolve, Chu Kei would come out and help resolve his problems. Wong portrays Matt as well, another split personality of King-fung who was in fact the dominant personality. Matt was a fourteen-year-old boy who always lied and caused trouble.

Philip Keung as Nip Shan, better known as Nip Sir, a Superintendent of Police from the Crime Unit. He was so devoted to his job that he neglected his wife, causing his wife to leave. This caused him to suffered from Bipolar Disorder.

Benjamin Yuen as Dr. Wai Yui-kit, better known as Dr. Wai, a psychiatrist and criminal profiler who had cognitive distortion due to his childhood trauma.

Mandy Wong as Yau Ngan-sing, better known as Madam Sing, a Senior Inspector of Police and the "Number One" Bomb Disposal Officer from the Explosive Ordinance Disposal Bureau. She suffered from post-traumatic stress disorder after witnessing her colleague's death and herself being injured in an explosion.

Lai Lok-yi as Kong Ching-fun, better known as Kong Sir, a Chief Inspector of Police from the Crime Unit. Venus Wong as Dr. Fong Yuen-chin, a forensic anthropologist.
NOW YOU CAN WATCH MURDER DIARY ENGLISH SUB ONLINE AND FREE ON XEMOVIE.COM